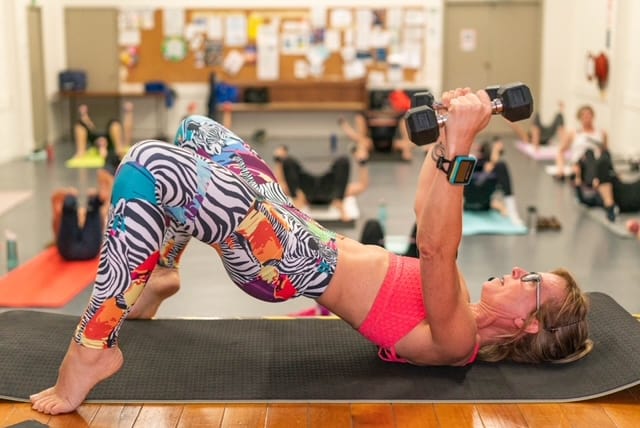 What is Hot HIIT Pilates?
Hot Pilates is based on Pilates principles and incorporates high-intensity interval training (HIIT) to enable you to push your body to new levels.
Come join us for a workout that is :
a challenging, full-body, low impact, high-intensity workout done in a warm room.
performed on a yoga mat with bodyweight exercises
great for strengthening core muscles and burning fat, without the pounding of a high impact workout
fun and challenging for everyone as I provide different variations both easier and more challenging with weights and bands
done to awesome music
amazing for building core strength fast
fat-burning
super fun as every class is different!
Induction Class
Come learn the ropes in an informal, no-pressure class. We'll take things easy, learn the correct form and what a class will look like. Suitable for absolute beginners! – Also a great time for my regular clients to come and ask any burning questions or have their form checked. Just give me a text to let me know you'll be coming. You'll just need a yoga mat!
Enrol for your free first class and experience HIIT Pilates for yourself. Just complete the contact form below. Don't be nervous! We're a supportive group. 🙂 Just let me know in advance when you're coming.
"The mind, when housed within a healthful body, possesses a glorious sense of power"
Joseph H. Pilates
Testimonials
"I got stronger straight away."
I started the "Get Strong" 8-week challenge after a 5-year break from the gym and fitness (with two young children). I was apprehensive because I knew how unfit I was, but after the first session, I was hooked.
I love the music and the intensity. It's great that I can alter the moves and difficulty to my experience level.
Since going I feel amazing – both physically and mentally. It's only two sessions a week, which works for me as I am time poor, juggling work and parenting.
I have also seen a massive improvement since completing my first 8-week challenge – I can now complete all the moves, including a full push up, full plank etc and my cardio has improved dramatically. Couldn't recommend it enough!
"…a great mix of fun and hard work."
As someone who hasn't done any real exercise for some years now, I find these classes a great mix of fun and hard work. Everyone is really friendly and welcoming and you come away feeling challenged yet revived.
What I like is that Rosanne offers you options for various exercises, which means there is something for everyone. You can build up your strength and fitness at a pace that suits your own ability levels.
She also encourages you to challenge yourself just that little bit extra each time you come along to class. For someone like me who has become quite idle over the years, you feel a real sense of accomplishment when you start to notice your own progress.
After just one '8 week challenge' I have noticed a huge improvement in my strength and fitness levels. I'm now looking forward to the next 8 weeks!
Sacha
"I love hot HIIT Pilates with Rosanne"
It is the best exercise class I have ever done… really though not a class at all… more like an experience!! And every class is different!
Rosanne does not focus on changing our bodies or making things 'Bikini perfect'. She prefers to focus on strength, health, stamina and empowerment.
The challenges she gives us over the weeks are a great way to measure progress so you feel achievement right away. It's almost an added bonus that my body has also become more toned over such a short period of time! I have so much more energy and am able to lift and play with my kids. My core is now pretty much always naturally engaged so my body and all its injuries are so much better.
"Rosanne is a fantastic teacher."
I love Hot Pilates. It has significantly increased my core strength and toned my butt!
You do a series of exercises that strengthen and tone your whole body. It is challenging but each week you get better and the team environment is supportive and fun.
Rosanne is a fantastic teacher with great knowledge and enthusiasm. I would highly recommend you come along.